Grand Jury Proceedings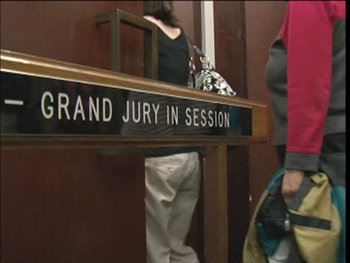 When a person is arrested by a police agency in Collin County, the police agency files the case with the Collin County District Attorney's Office. The Collin County District Attorney's Office then staffs the case with its Grand Jury Division. A grand jury prosecutor evaluates the case to determine if it will be declined or forwarded to the Grand Jury for a vote of No Bill or True Bill.
If the case receives a No Bill from the Grand Jury, no felony charge will be pursued against you. If your case receives a No Bill vote, the Collin County District Attorney's office has an option to take the case to the Grand Jury as many times as they wish during the statute of limitations period, generally 3-5 years for felony cases, but typically the case is not returned to the Grand Jury once the Grand Jury has voted for a No Bill.
If your case receives a True Bill vote from the Grand Jury, you are indicted on your felony charge, and you will receive notice of a first court date in the mail at the mailing address you provided to the police agency upon your arrest. Generally, your first court date will be 30-60 days after your case True Billed or Indicted.
When you are arrested for a felony in Collin County your case will be presented to a Collin County grand jury to determine whether or not the felony charge filed against you by the police agency will be filed with the Collin County District Attorney's Office. The grand jury is comprised of 12 Collin County citizens that are summoned and qualified to serve.
As a Collin County Grand Jury criminal lawyer I have submitted many cases to the Collin County Grand Jury and secured No Bills for multiple clients. If the Collin County Grand Jury No Bills your case, the felony charge against you will not be pursued. If you have been charged with a felony it is very important that you contact me today at (972) 715-1929, to have your case evaluated at no charge, for a No Bill submission to the Collin County Grand Jury.
I began my career as a prosecutor at the Tarrant County District Attorney's Office. While assigned to the Grand Jury Division, I would present 35 cases a week to the Grand Jury and coordinate pre-indictment pleas with defense attorneys and the Court. I have presented over 1650 felony cases to a Grand Jury and coordinated over 150 pre-indictment pleas. I was trained to coordinate with defense attorneys on pre-indictment pleas and defense packet submission and oral presentations and to "work the case up for trial" as follows:
preparing indictments
adding enhancements
ordering and reviewing evidence
tracking down missing evidence
reading relevant criminal statutes and training the grand jury on said statutes
ordering prior conviction packets
meeting with victims, families and witnesses
coordinating evidence, victims and witnesses to call in front of the grand jury
preparing case summaries
preparing No Bill or True Bill recommendations
In 2010, I began working as a Collin County Grand Jury criminal lawyer as part of my private practice. I defend my clients at Collin County grand jury proceedings by submitting written packets and producing witnesses and defendants. I noticed immediately under the current administration several issues:
Cases were not "worked up" by the Collin County grand jury prosecutors
No notice to Collin County Defendants or Collin County defense lawyers of their Collin County Grand Jury date
Oral presentations by Collin County defense attorneys were not allowed
Collin County Victims and civilian witnesses were seldom called before the Collin County Grand Jury
Flawed indictments were being filed by Collin County Grand Jury prosecutors
I have extensive experience as a Grand Jury criminal lawyer in Collin County and providing excellent Grand Jury representation to Collin County residents is what I do best. I know how to represent a Collin County clients on paper in a fashion that will secure a No Bill from the Collin County Grand Jury. I am intimately familiar with the role the State of Texas and defense attorneys should play in the Collin County Grand Jury process and I have had great success securing Collin County No Bills and reductions of Collin County felonies to misdemeanors.
Your Grand Jury packet must be started immediately after your arrest so please do not wait to call me. Please contact me today for a free consultation to evaluate your situation and see if a grand jury packet is what you need.